Manchee Agriculture – Family owned & operated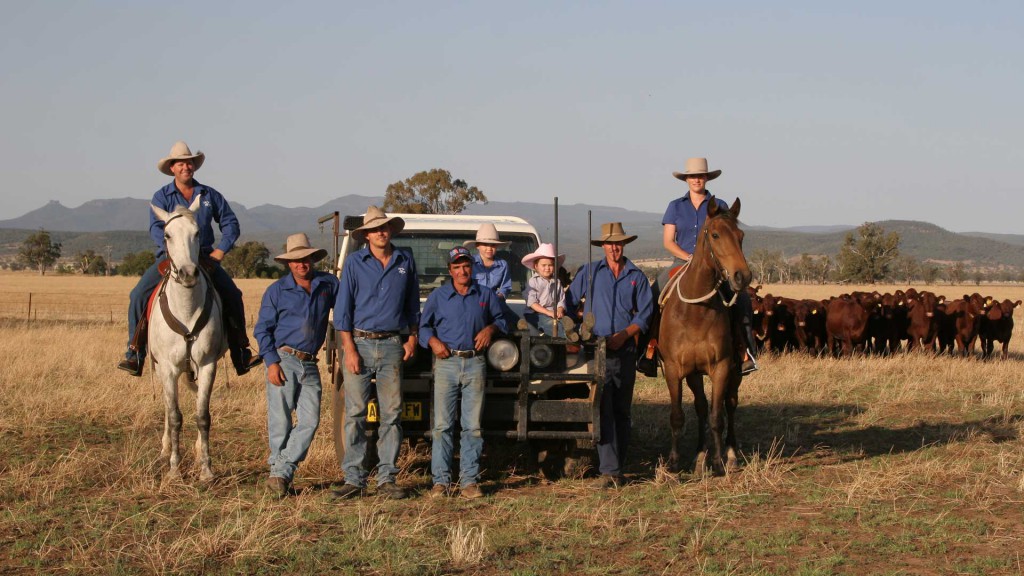 Manchee Agriculture is owned and operated by John & Liz Manchee and is based on the Namoi River with the beautiful Nandewar Ranges as a back drop.  Our families have been producing beef since the 1880's and stud cattle since 1947.
Manchee Ag comprises of the Yamburgan Shorthorn Stud, Wilgaroon Santa Gertrudis Stud and our very own developed Durham Tropicals. We believe that any one of these breeds are able to survive and adapt to any part of the Australian climate and environment whilst returning the maximum return for the producer.
Yamburgan Shorthorns was established in 1947 by John's grandfather, John Stewart Manchee. Yamburgan has 800 stud and commercial breeders. Wilgaroon was established in 1994 and has gone on to be of influence in the breed with regards to commercial and show success. Wilgaroon underwent a reduction in cow numbers in 2009 and now comprises of 100 cows. Durham Tropicals were the brain child of John and Liz's over the last 15 years and has developed in to an integral part of the business. Durham Tropicals are a stabilised composite, consisting of roughly 50% each of Shorthorn and Santa Gertrudis genetics. There are currently 450 cows in this operation.
Great to hear from Sam Inglis, SA, recently with some terrific MSA results. Over 400 steers have been sold to Teys Australia with an average MSA result indexing above 62. The steers topped at 400kg carcase weight having milk and two teeth.
Read More
"Having purchased our first Yamburgan bull 18 years ago we have continually seen an improvement in the females retained and the yeild in our steers."

"Yamburgan cattle are cattle that com- bine performance and docility and are sought after by both lot feeders and grass finishers who consistently comment on the high percentage of the cattle that meet the highest specifications."

The Yamburgan cattle have served us well for the last 65 years".